VisionAndPsychosis.Net©
In Wetumpka, AL.
The Wayback Machine will show this site is an investigation of Subliminal Distraction begun in 2002.
If you wish to help in this project, send the Home page URL to your email list and encourage everyone to do the same.
Preventing Subliminal Distraction episodes, mistaken for mental illness, is simple and free.
Copyright 2003 Edit May 2, 2017
Copyright Contact page Demonstration of subliminal sight
If you reached this page from a search engine enter the site here,
or see other cases on the Disappearance and College Suicides pages.
Devon Lee Ward
New contact information has been received. Note
Army Private Devon Lee Ward vanished from Ft. Bliss after 3 AM May 25, 2016. He was reported AWOL.
A source quotes his family as saying he was in good spirits looking forward to his discharge from the Army in a month.
Another source said he had been diagnosed with Asperger's Syndrome, and was depressed. It is possible for both to have been true.
His remains were found in a coal chute by workers making repairs, on a rotary plow at a plant near Cochise, Arizona in June. He was identified by the Pima County Medical Examiner's Office, with a positive fingerprint match.
One suggestion was that he had been riding in a coal car in a train delivering coal to the plant. He would have been dumped into the chute when the car emptied into it.
If that was the case he would have been alive during the train transit to the plant. He would not have died at Ft Bliss.
There is no cause of death, or other information available at this time.
The fact that he had a diagnosed psychiatric disorder, with depression, then suddenly without explanation walked away raises the suspicion that this was a Subliminal Distraction severe episode.
The Facebook page set up for him is Finding Private Ward.
A friend of the family has supplied information including a copy of the note Devon left.
The long text communication will be edited to remove sensitive family information before posting.
Information from friends at the base is still needed.
If you knew Devon Lee Ward and can supply information use this contact page to email me. Contact
Other disappearance cases Here.
The explanation of visual subliminal distraction divided into four pages, begins Here.
A new page Alycia Yeoman has additional info on other disappearances cases, and links.
Note supplied by family friend.
The writing is labored I do not know if this is his normal handwriting or stressed by the situation.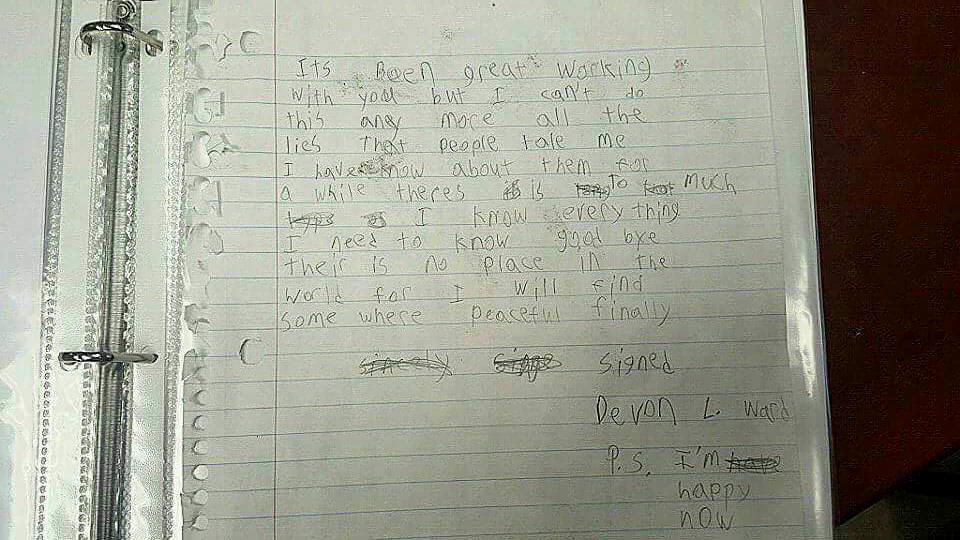 Its been great working with you but can't do this any more all the lies people tole (?) me
I have know about them for a while
there is to much
I know every thing I need to know good bye
there is no place in the world far I will find some where peaceful finally
signed Devon L. Ward
P S I'm happy now