VisionAndPsychosis.Net©
In Wetumpka, AL.
The Wayback Machine will show this site is an investigation of Subliminal Distraction begun in 2002.
If you wish to help in this project, send the Home page URL to your email list and encourage everyone to do the same.
Preventing Subliminal Distraction episodes, mistaken for mental illness, is simple and free.
Copyright 2003 Edit October 25, 2014
Copyright Contact page Demonstration of subliminal sight
If you reached this page from a search engine enter the site here,
or see other cases on the Disappearance and College Suicides pages.
Joe Morse
Joseph Morse walked away from Georgia Tech in May 2003.
He left all his possessions in the dorm room.
This is one of the few cases where roommate, or friends supplied information.
Subliminal Distraction conditions were present.
Reports at the time of his disappearance said Morse took a shower, left the towel in the shower room then walked away leaving everything he owned in his dorm room.
Pictures posted on the FBI missing person's site showed him at an ATM in Lenox Square, Atlanta, taking out his last $120.
Four years later the police department for Georgia Tech found he had flown to Miami, broken into a construction site, climbed a 187 foot crane, and jumped.
His roommate emailed me when he found my page about him. He, at my request, emailed diagrams of their computer, and study arrangement in the dorm room.
Morse had three sources of Subliminal Distraction exposure in the room.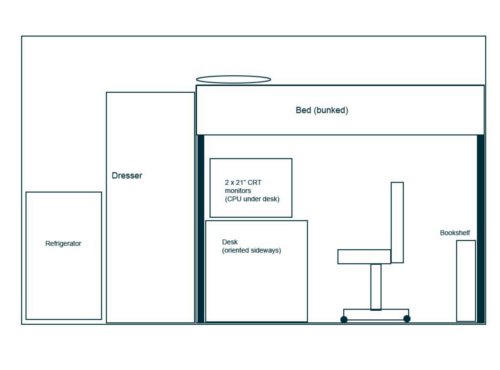 This view shows Morse's roommate's desk under the bunk bed. He had peripheral vision blocking protection. His peripheral view was of the back of Morse's chair.
Morse's chair, and body would have blocked the roommate's view of arm movement when Morse sat in the chair, used his computer, or studied.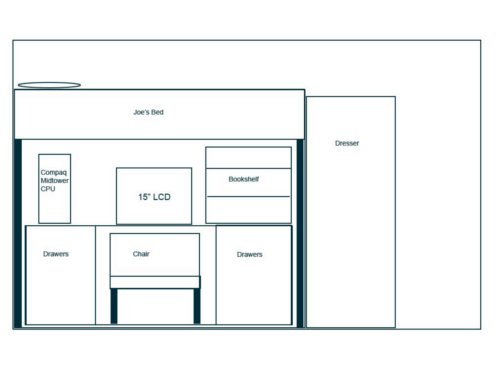 This view shows Morse's computer, and study location. His roommate remembered there was a bright blinking hard drive busy light on the CPU tower. Blinking lights can be detected mistakenly as threat movement when the head is turned toward the light sweeping it through peripheral vision, appearing to approach from behind.
At the level in your brain where a threat movement is instantaneously evaluated to trigger the vision startle reflex there is no thought process. It is all electro chemical exchanges of neural impulses across synapses.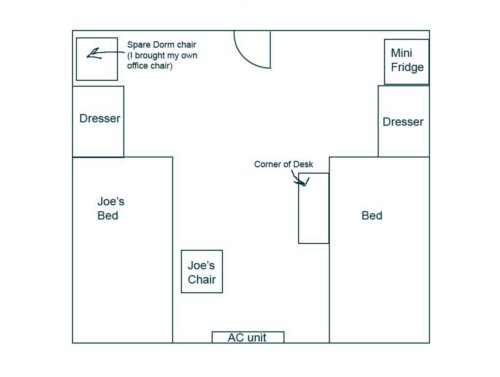 This overhead view shows the door which his roommate said was usually open. There was bright lighting in the hallway so that every time someone walked by their body briefly blocked light entering their room from the hallway. That sharp drop in light would have made the person walking by detectable as movement in peripheral vision.
Note that Morse's peripheral vision sweeps the room while the roommate has only the view of the back of Morse's chair.